Looks Like We Need More 12 O'Clock Boys In The World
Lotfy Nathan's documentary, 12 O'clock Boys, offers an unflinching look at bike life in the inner city through the eyes of Pug, a pre-teen enchanted by the allure of the adrenalin-fueled defiance that encompasses the bike boy life. Over the course of three years, Nathan tracks Pug and the 12 O'clock boys with an objective eye; however, beneath the romanticized depictions of free wheeling renegades lies a glimpse into street life and its effect on the young, most notably, the loss of innocence and the desire to be a part of something with meaning, even if that meaning only applies to a select few.
For viewers like myself who are from this area or one like it, 12 O'clock Boys can be a nostalgic ride where we meet characters similar to the ones from our own lives. To outsiders, it is a sobering view of street life from the perspective of biker boys, and the effect it has on the individual.
Pug
Physically, Pug is very much a little boy, a baby face, complete with cornrows, and jettisoning around on his mini four wheeler trying to impress the girls. He displays a child-like curiosity for animals, but nothing energizes him like the revving of dirt bike engines and popping wheelies. School certainly lacks that appeal. However, when he talks, it's as if you're listening to a stressed out twenty something well aware of his limited prospects, and the fact that life can be fleeting. Its funny to hear him say "back in the days" or "I've changed over the years" likes he's even been around that long. After getting his first gold grill, Pug says, "I been on this earth for a decade, plus two years, so what that makes me? A grown ass man." After his older brother passed from an asthma attack during filming, we realize that Pug has experienced a lot of death and violence for someone so young, and he and his family have learned to live day to day without much concern for a future that is far from promised.
Coco
Pug's mother CoCo seems overwhelmed and ill equipped to handle the rambunctious youngster. Her grating tirades have no effect on Pug making the back and forth banter between the two more peer-like than a parent-child interaction. Her idea of good parenting is centered on providing Pug with the latest fashion, an assortment of pets, and even dirt bikes. Although she doesn't want to see him hurt, she seems accepting of the fact that Pug is going to do what he wants at the end of the day.
Riding
Like many of the 12 O'clock boys we encounter, Pug sees riding as an ephemeral escape from the depression, anger, and stress that constitutes Baltimore city life for a young black male. The adrenaline fix alone is enough for them to risk life, limb, and freedom-not to mention the notoriety on the streets. A poignant moment in the film is when a kid around Pug's age, sporting a sling and what looks like a wired jaw says, "I hit the tree and got knock unconscious, I broke my collar bone and fractured all of my face, and my teeth came out. I like the rush of it. If it's something you love you gone do it anyway. In two weeks, I'll be back out." That quote about sums it up for this bunch: a ride or die collective with little regard for much else, especially the police.
Police
The Baltimore Police Department has an especially cantankerous relationship with the 12 O'clock boys. The boys in blue are barred from giving chase (although the 12 O'Clock boys would beg to differ) due to some tragic accidents in the past, and the potential for additional loss of life. The boys often ride past the downtown Police headquarters taunting the police who follow them until they stop or track them via helicopter. Nathan depicts the oppositional point of view through law enforcement interviews and local news clips highlighting the danger the riders pose to themselves and the general public. We're snapped back into reality hearing of the near death of a six year old bystander and the gruesome tales of riders during their final wheelie; yet, they still ride until their wheels fall off. Sure there are worse things they could be into than bike riding (especially in Baltimore), but they still risk their lives just to briefly escape the ills of the community surrounding them.
12 O'Clock Boys Are Everywhere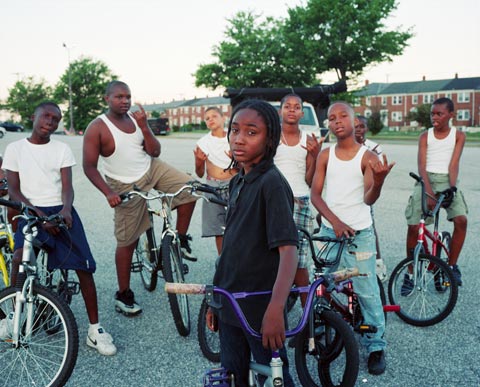 Whether you are familiar with these stories or merely an onlooker, I recommend this film. The 12 O'clock boys are here to stay. You can still catch them tearing up the city on Sundays (start where Reisterstown Rd. meets Druid Hill Ave). Like Steven says near the end of the film, "Every city has a Pug, every hood has a Pug, this is what the ghetto produces…hostile environments, anger, stress, depression, dealing with all this shit on a regular basis, you gone have a negative fuckin' outcome, it's a recipe….to jump on a dirtbike and leave all that shit behind, what first, second, third gear? All that shit don't mean nothing, yeah we gone ride nigga, we gone ride, fuck who sayin' we can't ride."
Comments
comments